Download Briar Desktop for Linux
Briar Desktop is now available for download as .deb and .jar files for Linux operating systems.
We intend to support Windows and macOS in the future but are still working on this.
Thank you to everyone who has tested Briar Desktop and sent feedback! We've fixed a lot of bugs and made many improvements thanks to your feedback.
Latest Release: Briar Desktop 0.2.1-beta (11 May 2022)
Choose the appropriate version for your system, you only need one file:
Ubuntu 20.04 and compatible .deb: Linux Mint 20.X (Ulyana, Ulyssa, Uma, Una), elementaryOS 6.X (Odin, Jólnir), Trisquel 10 (Nabia)
Debian stable (bullseye) and compatible .deb: MX Linux MX-21
Ubuntu 18.04 and compatible .deb: Linux Mint 19.X (Tara, Tessa, Tina, Tricia), elementaryOS 5.X (Juno, Hera), Trisquel 9 (Etiona)
If your system is not based on any of the distros above, you can download this jar file:
If you know how to use SHA-256 checksums you can check that the file you've downloaded matches the checksum below:
briar-desktop-ubuntu-20.04-0.2.1-beta.deb: dc45b40143635098af8238bfa4567166fbee9d638897a8d4ebde02bcb2b39110
briar-desktop-debian-bullseye-0.2.1-beta.deb: 0d99c548429481ebcdca45d473971700eb38853173e4fd9377f29f72edad697c
briar-desktop-ubuntu-18.04-0.2.1-beta.deb: 8401286a2f9fd1e171e7702b29ee1ba09ef8c7bdbf2831d3814746fa16b9412e
briar-desktop-linux-0.2.1-beta.jar: 900023fdb986bceb0da754ed76fae6163e60316b5c5db7cdbee4f71c0af80de4
Help Briar by translating Briar Desktop into your language!
If you'd like to be informed about future Briar releases, or are interested in getting involved in the project, please join the community!
All our software is open source - you can browse the source code or build the app from source.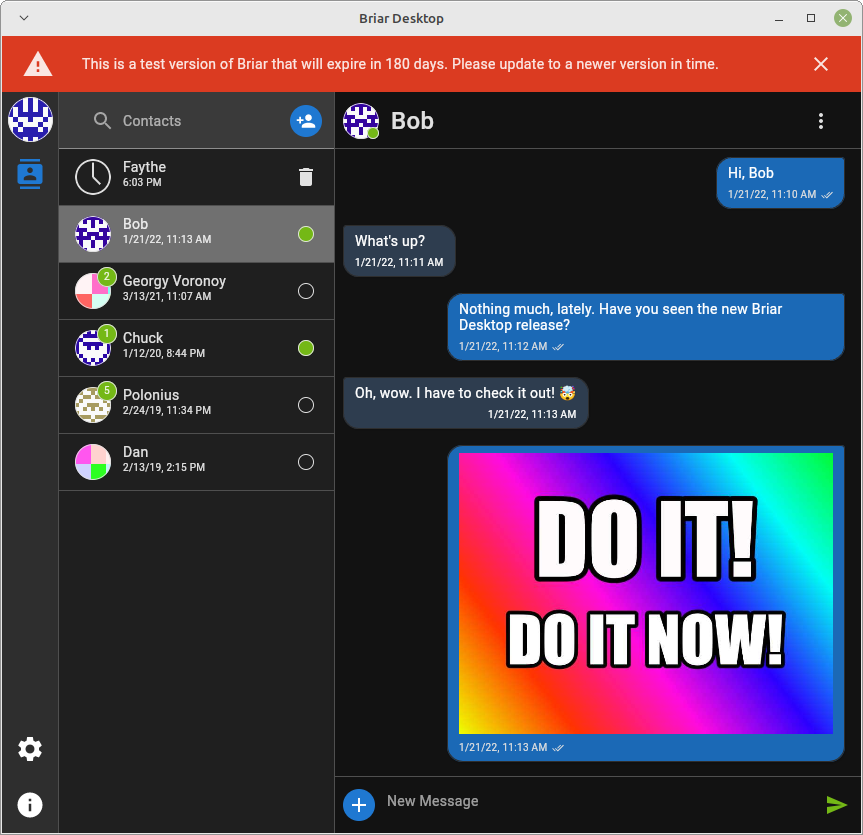 For a comparison of Briar's Android app and the desktop client, see this table:
| Feature | Android | Desktop |
| --- | --- | --- |
| Private Chats | ✔️ | ✔️ |
| Private Groups | ✔️ | ❌ |
| Forums | ✔️ | ❌ |
| Blogs | ✔️ | ❌ |
| RSS feeds | ✔️ | ❌ |
| Introductions | ✔️ | ✔️ |
| Disappearing messages | ✔️ | ❌ |
| Add contacts at a distance | ✔️ | ✔️ |
| Add contacts nearby | ✔️ | ❌ |
| Connect via Internet (Tor) | ✔️ | ✔️ |
| Connect via LAN/Wi-Fi | ✔️ | ✔️ |
| Connect via Bluetooth | ✔️ | ❌ |
| Connect via removable drives | ✔️ | ❌ |
| Tor bridges | ✔️ | ❌ |