Download Briar Desktop for Linux, Windows and macOS
Briar Desktop is now available for download for Linux, Windows and macOS operating systems. For Linux, we provide .deb and .jar files, for Windows there's an .msi file and for macOS there's a .zip file.
Thank you to everyone who has tested Briar Desktop and sent feedback! We've fixed a lot of bugs and made many improvements thanks to your feedback.
Latest Release: Briar Desktop 0.6.0-beta (31 August 2023)
For Windows, an .msi Installer is available:
For macOS, a .zip file is available for each processor architecture, you only need one file:
For Linux, choose the appropriate version for your system, you only need one file:
If your system is not based on any of the distros above, you can download this jar file:
If you know how to use SHA-256 checksums you can check that the file you've downloaded matches the checksum below:
briar-desktop-ubuntu-22.04-0.6.0-beta.deb: dbe3ca566b9b74a97c0e61025939e7906e500bd9bc29af10c099a0c4918957e8
briar-desktop-ubuntu-20.04-0.6.0-beta.deb: e8cc262d18e0cf214c7fd5c8227ecfe80afb5003c8572eeebe86e1be004f41f1
briar-desktop-ubuntu-18.04-0.6.0-beta.deb: 4699e53693377df1e88bf90354ef07491cdf17fd8844cecaf6aaad57e3f08ef5
briar-desktop-debian-bullseye-0.6.0-beta.deb: 81d5c4f81e0212fbc37fbec7c9c99e39c046e2e39965dbf18f46969a9542a4fc
briar-desktop-linux-0.6.0-beta.jar: 213960d931d0c0ff759d5c4784b7d73c1b42e1edc453d57b0ffd795ea582ec51
Briar-Desktop-0.6.0-beta.msi: 7d8e7313f014f6e71e5e6a83e4a87dc7feb762c2795cc344f91232186b9fbd81
Briar-Desktop-intel-0.6.0-beta.zip: 2d1c7ca12b51f9777418f7768de35d2a20c2dc43ee9a74d00e727b291e9c2db5
Briar-Desktop-silicon-0.6.0-beta.zip: e9efed68006ad6bca01b8bc73ad9dc9e55ea91ebc172c29e0d676cd57f74026e
Help Briar by translating Briar Desktop into your language!
If you'd like to be informed about future Briar releases, or are interested in getting involved in the project, please join the community!
All our software is open source - you can browse the source code or build the app from source.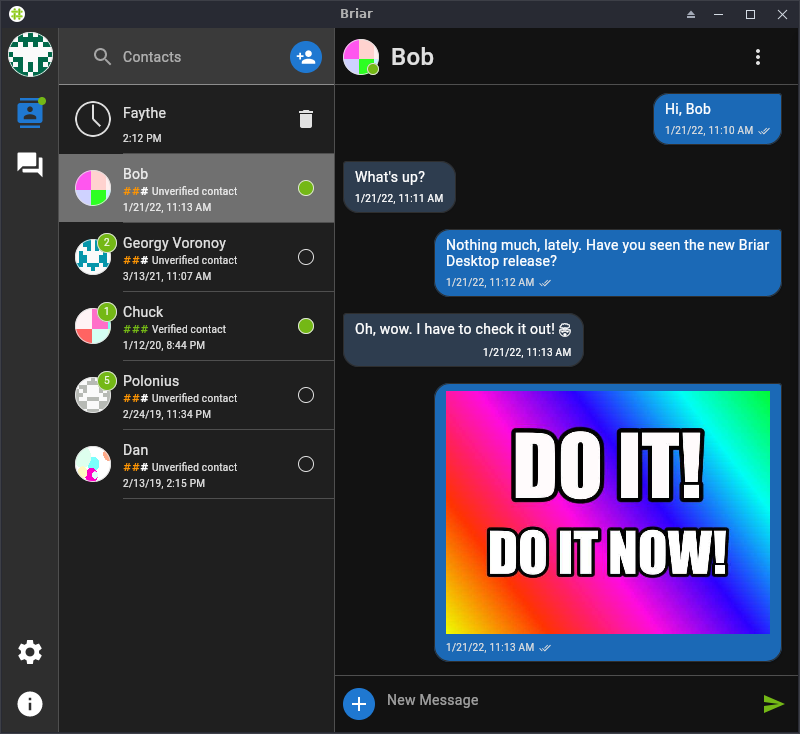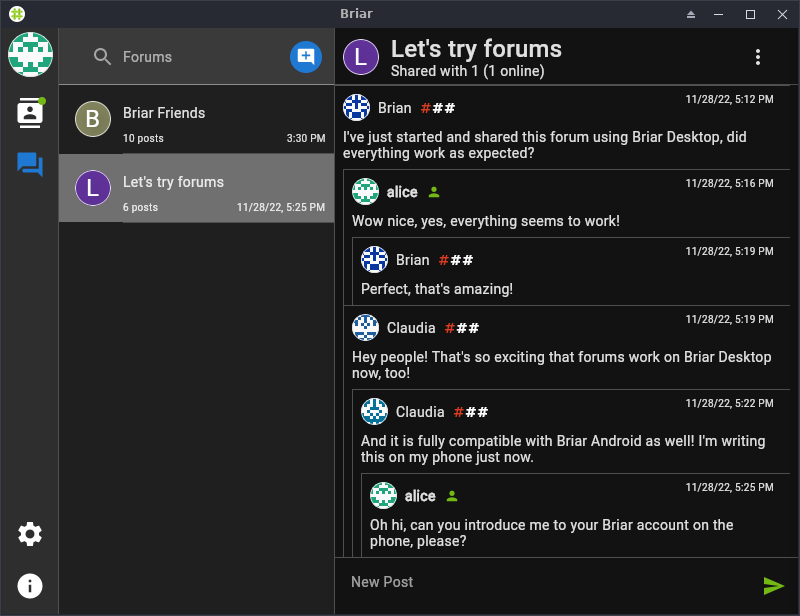 For a comparison of Briar's Android app and the desktop client, see this table:
| Feature | Android | Desktop |
| --- | --- | --- |
| Private Chats | ✔️ | ✔️ |
| Private Groups | ✔️ | ✔️ |
| Forums | ✔️ | ✔️ |
| Blogs | ✔️ | ✔️ |
| RSS feeds | ✔️ | ❌ |
| Introductions | ✔️ | ✔️ |
| Disappearing messages | ✔️ | ❌ |
| Add contacts at a distance | ✔️ | ✔️ |
| Add contacts nearby | ✔️ | ❌ |
| Connect via Internet (Tor) | ✔️ | ✔️ |
| Connect via LAN/Wi-Fi | ✔️ | ✔️ |
| Connect via Bluetooth | ✔️ | ❌ |
| Connect via removable drives | ✔️ | ❌ |
| Tor bridges | ✔️ | ❌ |
| Briar Mailbox | ✔️ | ✔️ |